Published on Sep 25, 2012
--Temeca and Todd Jones, local parents and business partners who founded
FUNducate, are organizing 1st Annual Show Love NO Bullying Walk-A-thons in the tri-state area to raise bullying awareness. This fundraiser is open to the public; participants will have access to free concerts and activities. Cost is $15 per adult, $5 per child. Proceeds will allow their company to donate their anti-bullying children's books, "Show Love, No Bullying" to local schools. The Joneses created FUNducate to offer a line of children's books and donate the books to local schools via their nonprofit, All in One company.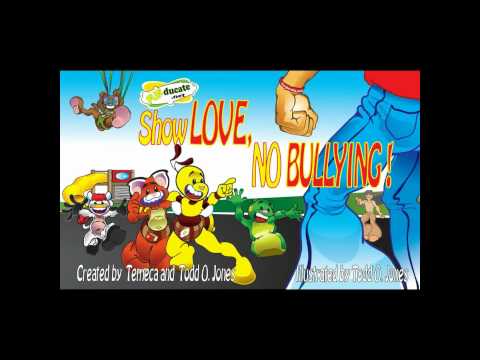 Image for Time Warner 30 sec PSA –
Why Support this Campaign?
In the past bullying has always existed in some form within our communities. Bullying is steadily increasing and becoming an epidemic resulting in detrimental mental and emotional affects among our children and has even resulted in the increase in deaths. Each community will need to stand up, address, and take steps to build social awareness in our children and take a stand against bullying. As many as 160,000 students stay home during the day because they're afraid of being bullied. 60% of middle school students say that they have been bullied, while 16% of teachers believe that students are bullied. Bullying was a factor in 2/3 of the 37 school shootings reviewed by the US Secret Service. 1 out of 4 teens are Bullied. 1 out of 5 children admits to being a bully, or doing some "Bullying." (Click here to see types of bullying)
We want to get the message out to our children about the various types of bullying and what they can do to overcome bullying situations. Therefore, as a supporter of this initiative you assist us in making a difference in education about bullying and assist us in putting the Show Love No Bullying book series in our children's hands.
Please help us to help you against bullying! Receive free information and let us stand against bullying for you (We will inform the Dept of Education and your State Representatives of statistics in your County/State).
FUNducate LLC. Show Love No Bullying Advocate Form
There are several types of bullying. Several children are dealing with daily either physical, verbal, indirect, social alienation, intimidation, and/or cyber bullying. Please click link for definition of the types of bullying. Please indicate below the type of bullying that you or your child is experiencing. Also, let us know if this is occurring during school hours or on the bus, and if you have reported this occurrence to a school official. We would like to gather information and also be a voice to notify the school, school district, and Department of Education of the results and /or non resolution.
2012/2013 Show Love No Bullying Book and other book donations to All in One Books Non-profit (for Lakota Schools, Cincinnati Public Schools, Dayton United Way)